In order to reach people and connect with them through your Instagram, the most prominent thing to be kept in mind is the best time to post on Instagram in India for maximum reach! We have already discussed the benefits and advantages of using Instagram, but we need to be very sure about the best time to post as well. The best time to post on Instagram in India is a very vast topic that needs a detailed discussion. So, let's go for it.
Tips To Find The Best Time To Post On Instagram In India
It is very well known that people tend to spend a lot of time on Instagram. Be it for fun, entertainment, business or mere time to pass. It would be great to give people something influential and convincing to catch on while they are just scrolling through their feeds. This brings us closer to the best time to post on Instagram in India. Let us have a few key points that will make it easier –
You can download this e-book 20 Effective Techniques & Tips for Boosting Instagram Engagement
Find out your Target Audience
The first and foremost thing is the audience that has to be kept in mind. Almost all Indians use Instagram, you do not want to reach all of them, but just the ones that can actually benefit from your posts. This is how you segregate your audience and decide the people who should be seeing your posts. Have a look at their Instagram timelines and make out their online period, this will help you know when they are active, and you can respectively post your content and be sure that it will reach the amount of audience you want.
Best time to post Each Day
According to a recent study, the best time to post on Instagram in India specifically is as follows (according to IST) –
Monday – 3.15 PM and 7.30 PM
Tuesday – 11.30 AM and 1.30 PM
Wednesday – 4.30 PM and 5.30 PM
Thursday – 6.30 PM and 9.30 PM
Friday – 2.30 PM and 10.30 PM
Saturday – 8.30 PM and 4.30 AM
Sunday – 5.30 PM and 2.00 AM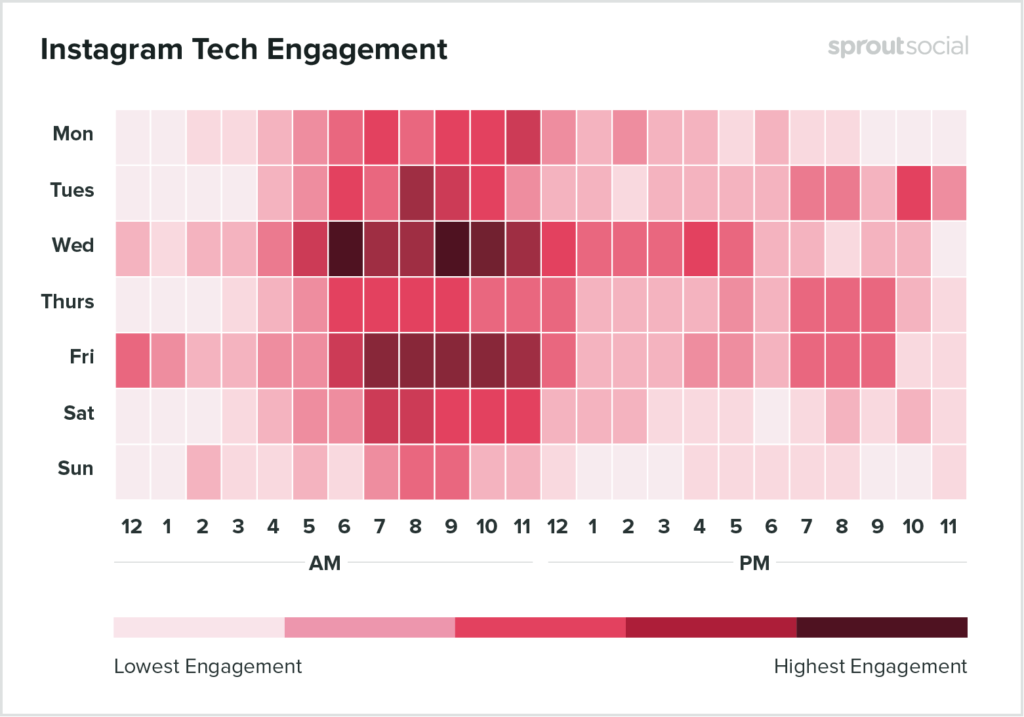 Almost everyone in India works between 9.00 AM to 2.00 PM at a common rate, so people usually have their lunch breaks and tea breaks around 2.00 PM and 4.30 PM respectively, which gives them enough time to scroll through their Instagram feeds, that results in more views and likes.
3 tips to take care while posting on Instagram
1. Schedule your best time to post
Once you are aware when your audience is online on Instagram, make the use of a spreadsheet and schedule your post timings. You may have to keep changing your timings according to the activeness of your target audience, but having a systematic way to schedule your posts for maximum reach seems like a good way to go.
2. Review your most viewed posts
Keep a constant check on your posts even after a week of its posting. Mark the views and likes you get for a particular post and select those that have been most viewed and liked. This way you can post your stuff easily in that specific time range when you are most likely to be getting more likes and views compared to your other posts. This brings you one step closer to knowing the best time to post on Instagram in India.
3. Know when your competitors are posting
It is quite evident that if you are doing research on your audience's activeness and their period of being online, your competitors are doing the same thing. As a result, it is advised that you post a few minutes before or after your competitor, to make sure that your post or content is posted on a different time range and that people will be able to reach it more effectively.
Instagram has become one of the most influential and reliable ways to reach people. There was a time when people used Instagram just for the fun of it, but with time and the application's evolution, Instagram has become a life changing platform for people to reach a mass audience. Taking into consideration, the lockdown period since two years in India, Instagram has proved to be the best way and path to connect to people and flourish businesses to great heights. However, not at all this can be achieved within a week or a month. There are certain rules that should be taken into account while using Instagram for one's own benefit.
In Conclusion
These were some of many things that have to be taken into consideration when posting on Instagram in India, which will get you the maximum reach. The best time to post on Instagram in India is to be determined by you and that will help benefit you and your company with the maximum results. So grab your phone and get the best you can!