Do you want to start your online store? We know that building an online store can be a terrifying thought, especially when you are not a tech-savvy person. There had never been a better time to start an online business than today. Anyone with a computer can get started within a matter of minutes and without acquiring any special skills.
What Do You Need?
The three things you need to start an online store are:
A domain name idea (this will be the business name of your online store)
A web hosting account (this is where your website lives on the internet)
Your undivided attention for 30 minutes to read this.
Now, since we are clear as to what is needed most in starting an online store as a beginner, let us go through the steps one by one as to how an online store starts.
Steps To Starting An Online Store
We know, starting an online store is quite stressful and at the same time simple and easy if you give your undivided attention as mentioned earlier. Here is a step-by-step process for simplifying the process –
1. E-Commerce Niche Selection
Before you start an online store, you need to decide what you're selling and who you're selling to. This is known as a niche in E-commerce. Having a niche will require you to narrow down what you sell to, either one type of product or a single category of products. This helps to reduce your marketing and advertising costs, limit your competition, and inspire brand loyalty more easily, along with other benefits. The best Ecommerce niches target a highly specific buyer and represent an untapped market.
2. Domain Purchase
The first step in building an online store is purchasing and registering a domain name. There are hundreds of domain registrars for you to choose from. Before making your purchase, you want to choose a name that's short, unique, and easy to memorize and spell. It should also hint at what your store sells. For example, Fixperts in is a repairing company that deals with fixing and repairing done by experts, hence the name. Once you've decided on a name, registration is quite easy. Just visit a domain registrar, search for your desired name, select your term of registration, and enter your payment info.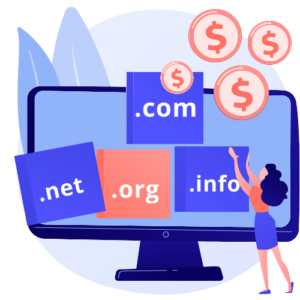 3. Platform Selection
There are many platforms that can help you start an online store without building it from scratch. Two of the most popular options are Shopify and WooCommerce. They offer two very different approaches to building and managing an online store. Shopify is a hosted E-commerce solution, so you'll purchase a plan with all the features for a monthly fee. Whereas WooCommerce is a free plugin you can add to your WordPress site to quickly set up an online store. Once you've selected a platform that meets your needs and goals, start with setting up your online store.
4. Theme And Customization
You'll want to select a theme that meets the needs, goals, and brand identity of your online store. Select a theme that can display merchandise, provides an excellent user experience, offers pre-designed templates, offers customization for every page of your website, and makes product searching and navigating easier. Once installed or activated, you can begin customizing your theme to reflect the unique look and feel of your brand. This includes doing all the things that you wish with your website.
5. Adding Of Products
It's time to add merchandise to your online store site. You'll add each product one by one, providing a title, description, image, and category for each. Categorizing your products will enable your customers to sort and browse them more easily. Providing additional information like pricing, inventory, and shipping for each product is also very important. 'Purchase' and 'Add to Cart' options should be included on your pages to let the customers purchase or upsell your products. Once you've added all the necessary information for a product page, you can publish it and repeat the process.
6. Checkout Funnel And Key Pages
Next, you need to set up a way for people to buy products from your online store. This is known as a "checkout funnel" and includes three major steps: a shopping cart, checkout page, and confirmation page. The shopping cart is where the customers put their products, the checkout page is where the payment and shipping options are and the confirmation page is where they see their confirmation done successfully. Online stores would benefit from having some or all of the following pages as well – About, Shipping, Returns and Exchanges, FAQ and Contact. This makes shopping easier. They are key to gaining consumer trust and confidence.
7. Include Blogs
Adding a blog to your e-commerce website / online store can help you attract visitors and turn them into leads, and boost your visibility. Regularly creating content that solves the challenges of your target audience will help you attract visitors and make your business appear credible and trustworthy, which boosts the chances of those visitors becoming leads. In addition to helping you generate leads, blogging can help improve the E-commerce race site's SEO.
8. Installing Add-ons
You could push your online store site live, or you could install some add-ons to extend the functionality of your site. The benefit of using flexible platforms like Shopify and WooCommerce is that you can install extensions right away or wait until it is needed. Maybe you've increased your inventory and want to add an image or video gallery to your homepage to showcase your new products. This is just an example to enhance the functionality of your store with add-ons.
Summing It Up
E-commerce is continuing to grow and makes up a larger percentage of retail sales across the world. If you have a great idea that you'd like to monetize, then you can start your online store. You can create an ecommerce website and begin attracting customers and generating sales right away!